Convertible Top Specialist
South Carolina's choice for the repair and replacement of convertible tops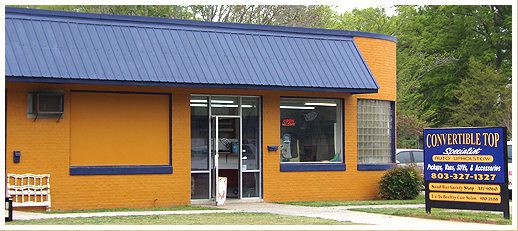 Rock Hill, SC Convertible Tops & Upholstery
From Convertible Tops to Auto & Marine Upholstery, We Cover Any Seat!
Are you ready to refresh the look of your car, truck, or boat? Is the top of your convertible damaged, faded, or cracked? Convertible Top Specialist can help!
Convertible Top Specialist is Rock Hill, SC's choice for the repair and replacement of convertible tops, auto upholstery, auto carpet, marine upholstery, and marine carpet. We also sell and install an assortment of truck accessories.
Owner James Barber has over 50 years of experience in the auto and marine upholstery business. He will inspect your car, truck, or boat and help you select the upholstery or carpet that works best for your vehicle and needs. Convertible Top Specialist uses top name brands of automotive and marine fabrics and carpets. The work we do for you will look superior and last for years to come.
Contact Convertible Top Specialists
Call Convertible Top Specialist for more information on the interior and exterior restoration services we offer for vehicles and boats. Our work can help your vehicle look like new again!
Convertible Top Specialist
1020 Saluda St.
Rock Hill, SC 29730
803-327-1327
Hours: 8AM-5PM Monday-Friday, 8AM-2PM Saturday
Cash, checks, Visa, MasterCard, and Discover accepted.